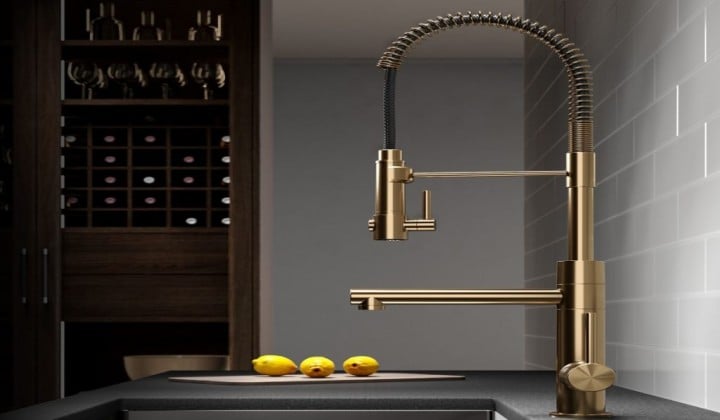 A large part of your kitchen activities revolve around the sink. Observe your daily habits, and you will also agree with the same. From preparing meals to washing dishes and scrubbing pans to filling water, you depend on this plumbing fixture so much. And for all these things, you have to activate the faucet multiple times. So selecting the right kitchen faucet is important. Your sink faucet can be a pull-down or pull out design. Many households opt for pullout for its ability to give your cooking zone a multifunctional twist. Plus, it can satisfy any interior theme hassle-free. You can also choose this model for these reasons. While it can be an excellent decision, you need to take care of a few things to make it the perfect choice.
When you shop for a pull out kitchen faucet, explore specific characteristics, such as sprayer hose material, nozzle, size, metal body, etc. All these play a considerable part in its performance and durability.
Features Of Pull Out Faucets For Your Kitchen Sink
Braided Nylon Hose
These usually white-colored nylon tubes serve as the supply lines for hot and cold water in faucets. Their flexibility allows them to extend and recoil smoothly. As a result, you don't need to put out additional effort while working with them. You can manage your dishes and meal preparation tasks easily. These tubes can be of various lengths. You can check the product specification to understand how far it can extend.
Rubber Nozzles
The nozzle holes accumulate limescale and mineral deposits over time. If you have hard water, the problem can be frequent and persistent. The unwanted deposits can affect the functionality of the tap by restricting its water flow. The stream can lose its strength, and consequently, you may have to put up with compromised efficiency. Previously, you did not have many options other than metal. Nowadays, most high-end taps come equipped with rubber nozzles, as this material enables you to easily get rid of any hard water buildup with a simple swipe of fingers on its surface. As soon as the dirt is removed, powerful water flow is restored.
Spot-Free Stainless Steel Finish
If you look around, you will realize that most home appliances and hardware use stainless steel finish in their construction and design. One apparent reason for this is its ability to match any minimalistic or upscale décor taste seamlessly. Another is its spotless, clean appearance, which you can maintain for a prolonged period through regular care. You don't have to do much also. Just wipe the surface with wet and dry cloths, and, your faucet will get back its smooth and sparkling clean appearance. For doing away with oil marks and spots, you may need to use a gentle soapy solution. However, this will not feel like hard work.
Some reputable stores offer pullout faucets in spot-free stainless steel material. It arguably prevents fingerprints and water spots. If you are not someone who likes to devote their time to regular cleaning, it can be a handy asset for your lifestyle.
Proper Size
Before getting into the specifics, let's see the importance of finding the faucet's right size and why looks cannot be the deciding factor in selecting the right kitchen faucet. If you refer to these in practical terms, you will realize that short height faucets can fail to accommodate tall pans and pots. A too-long tap can also be troublesome as you may need to deal with water splashing while washing hands or dishes. Another pain point can be their head or spout. Whether it sticks out in front or is too far back, there will be discomfort using it, and splashing can also occur.
But you do have to consider appearance when selecting the right kitchen faucet. From an aesthetic viewpoint, a too-small faucet for an oversized sink and a big room can look awkward. A long tap can dominate the entire kitchen background, looming large over other elements in terms of the presence. Your kitchen can seem a bit cluttered. Therefore, selecting the right size is essential.
When you shop for a pullout model, you may want to check its length from the base to the top, and height of the spout and the arc. The most ergonomic design features a slightly more than 9-inch overall height with a spout measuring a height of a bit more than six inches. Most of these models feature a low arc to make them an unobtrusive and natural choice for your background. However, make sure that the spout reach is decent. It can be around eight inches or slightly more. Spout reach indicates how far you can extend it to perform your chores.
According to experts, keeping the size of your sink in mind can be beneficial when you browse pullout faucets in stores. You can focus on a comfortable reach, as too back or forward design tends to hamper ease of use. Also, the sink and faucet have to complement each other in appearance so that one doesn't look oversized or undersized with the other. At the same time, visualizing the faucet's impact in the context of the whole kitchen is also necessary. Only this can create a harmonious appearance of your cooking area. Usually, people say that a low arc tap is the best when you don't deal with tall pans and pots often.
Ultimately, you have to be comfortable with your pull out faucet. Buying one from a reputable store can be reassuring from the views of quality and trust. Many brands offer easy-to-install models to eliminate a lot of your installation hassles and time. Higher quality faucets can cost a little more, but you can depend on longer service from your faucet to make up for it in the long run. If you cannot visit a physical store, you can go online and explore the range of pullout faucets available. The varieties and features cannot disappoint you. However, just a reminder, keep the measurements of your sink in mind. It can help you figure out the correct match.
Finding Help with Moving Professionals
We hope you found this blog post on Kitchen Faucets: A Few Features That Can Make Your Purchase Useful to be helpful. Be sure to check out our post on The Best Kitchen Improvement Projects For Summer for more great tips!
Need to Move Furniture? With All Around Moving you don't need to worry about any unexpected charges. We are always upfront about our prices and take pride in taking care of every need of our customers before and during the move. For a stress-free move where you don't need to take care of anything contact us today! We are "A+" rated members of the Better Business Bureau and a member of Greater New York and Miami Dade Chambers of Commerce.
Discover how uniquely priced we are compared to other moving companies in New York, NY & Miami, Florida. Get a moving quote specifically tailored to your moving needs by calling us TODAY!
---
Have Experience in the Moving Industry? Want an Additional Income Stream? Work With All Around Moving!
Earn extra income while applying your expertise in the moving industry. Partner with us and we'll help you profit. Click here to learn more.